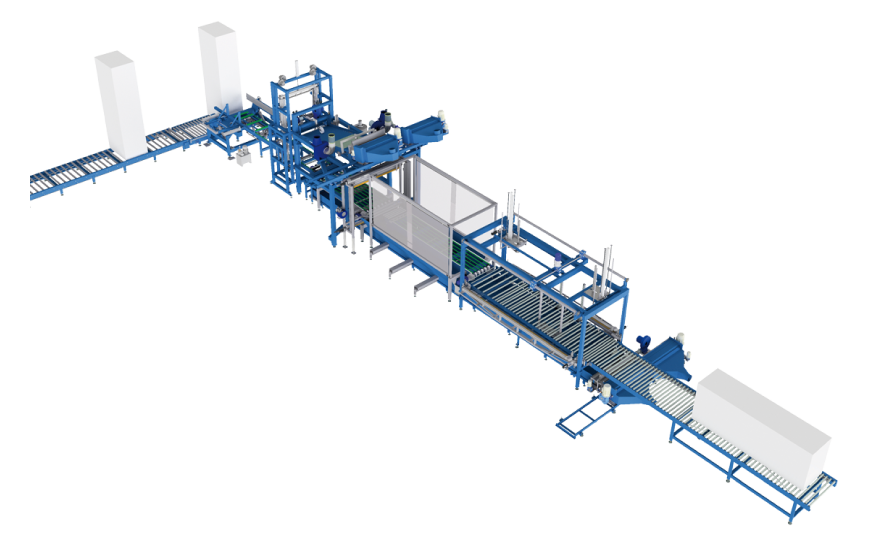 Automated Cutting Lines for sheets
High Customization to adapt to Customer Requirements
High Capacity
With oscillating wires and high level of automation in order to Maximize the Performances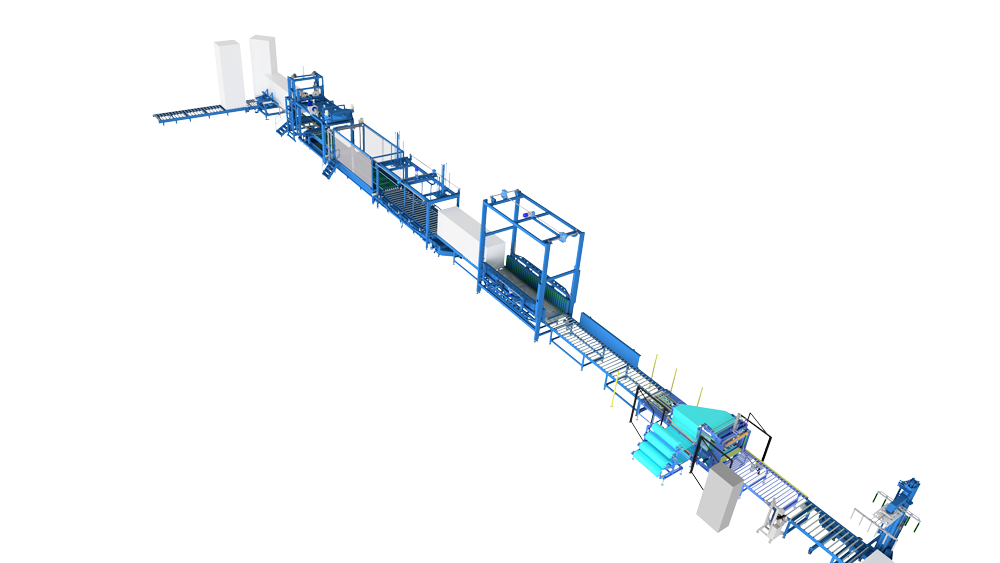 Equipped with the special "Nip High Frequency Oscillating Cutting System" which ensures 50% higher cutting speed in front of simple hot wires.
Fully controllable by Recipes System.
Plenty of any possible type of Automation in order to improve both the productivity and the flexibility thanks to automated quick changes of configuration.
All Cutting Lines can be equipped with
Automatic wire positioning on each cutting station; available for both oscillating and non-oscillating cutting systems
Full scrap collection and pre-crushing
Label & Marking devices for finished product taking data from machine Data Base or directly from Customer Data Base
De-stacking Systems made in many possible different ways:

by pushers and lifting tables (single or double) - side separation
by clamps moving up & down - vertical separation
by cartesian robots
by anthropomorphic robots (Fanuc or Abb brands)

for complying whit Customer Specific Requirements
Packing Machines (4 or 6 sides) bought from specialized Companies which are collaborating with Nip since decenniums
Palletizers and finally Wrap Pallet Packing machines (both Vertical or Horizontal) with wood pallets or glued-wrapped eps skids
Principle of High Frequency Oscillating Cutting System
Friction between moving wires & eps creates locally additional heat which acts where needed. More friction in presence of higher densities, hard scraps and wet patches, creates automatically a heat surplus exactly there, so where necessary.
This ensures much more uniform cutting conditions with consequent very nice and smooth cut sheet surface results.

To achieve that Nip offers the following solutions for the different cutting stations:
A double counter-oscillating cutting frame with 15 mm (0.6 in) stroke @ 1.000 rpm for the Horizontal Cutting Station which can hold up to 140 wires heated by a three phases transformer; the Horizontal Oscillating Cutting Head can be completed with automatic wire positioning for a high flexibility production.
Single oscillating wires on Vertical Cutting Station and Down Cutter with frequency even higher and equal to 1.450 rpm. Oscillation is ensured by a 15 mm (0.6 in) stroke single motor for each wire.
Automatic wire positioning systems are available on these Cutting Stations too.
Advantages of Nip High Frequency Oscillating Wire Cutting System compared to both (*) simple Hot wires and (*) low frequency Oscillating Systems
Minimized picture frame effect when cutting block containing residual humidity
Better Cutting Speed (+50%)
Smoother cut surface - larger advantages when cutting material containing scraps
No wires getting dirty when cutting grey materials
Low material burning: standard wires in use of 0,35 mm (0.014'') combined with low temperatures and Automatic Speed & Voltage Controls ensure a Max wire consumption which does not exceed 0,5 mm (0.0197 in); this advantage gets larger when cutting thin sheets by allowing to get from the block even 3÷4 % more sheets !
Achievable cutting speed with oscillating wires
Special titanium alloy wires combined with proper high tensioning springs and suitable wire cooling systems allow high cutting speed even over 3,0 m/min (10 ft/min) for low density [10 g/l - 0.62 lb/ft³] and up to 2,5 m/min (8.3 ft/min) for middle densities [16 g/l - 1.0 lb/ft³]
Details of Automatic Wire Positioning Systems on Horizontal Cutting Stations
Double or fourfold robots for quick positioning respectively in case of single frame non oscillating wires and double frame oscillating wires
Aluminum holding wire rings in standard version 20 mm thick (0.8") ensures the possibility to cut sheet thicknesses down to 10 mm (0.4") thanks to the double frame system by maintaining a very high long term precision
Possibility of multi-thickness settings (up to 15 different) for better utilization of block thickness
Possibility of setting inclined wires for the cutting of special sheet for flat roof or equivalent Applications (also in multi-thickness configuration)
Remarkable "Special Features" of Nip Automated Cutting Lines
Automatic Speed & Voltage Controls on Horizontal & Vertical Cutting Stations to adjust continuously the cutting speed (on Horizontal Cutting Station) and the voltage (on the Vertical Cutting Station) in function of local material density and characteristics (by load cells the mechanical instantaneous wire tensioning is continuously measured during cutting).
Such Unique System ensures:

Max possible cutting speed automatically settled
Constant material consumption for uniform sheet thickness
Low wire break risks
Automatic roller setting on Down Cutters to eliminate any eventual interference with the cutting wires just settled
Automatic Cleaning Procedures for upper & bottom Pre-crushers and eventually as even more complete solution double sliding upper & bottom Pre-crushers allowing to dedicate one of each to White and the other to Grey for contamination minimization at the moment of quality-color  block change
Down Cutters upgraded for cutting as well Ship-Lap or other joint profiles on all 4 side of the sheets allowing to produce sheets with lateral joints by using directly the hot wires of the same down cutter simply setting a dedicated cutting program (possible  both cuts: standard straight or shaped for joint)