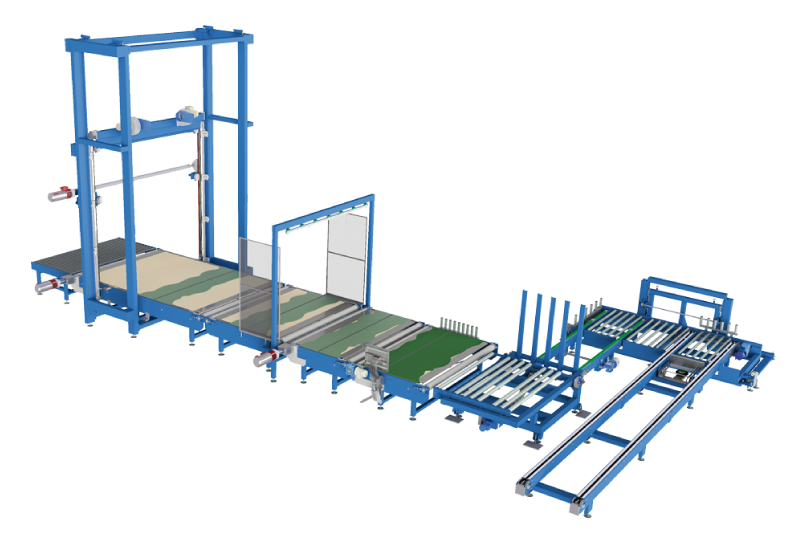 Shape cutting machines
Available with 2 or 3 Axis
Fully Customizable in design, configuration and block size
Width up to 4,0 m (158 in)
Height up to 2,6 m (102 in)
Length up to 8,0 m (315 in)
It can be built with
Vertical Cutting Frame "V" type - the most standard for most of the applications
Horizontal Cutting Frame "H" type – useful for some special production like thin pieces
Horizontal - Vertical Cutting Frame "HV" type – frame can rotate of 90° (even automatically) to work in both positions allowing a larger flexibility
Completable with
Automatic block feeding
Additional Horizontal Cutting Station for combined cuttings (flat-shaped)
Additional Vertical and Length Cutting Stations
Scrap collection
3 Axis Version
Useful for example for cutting special sheets for the insulation of the flat roofs which can present different heights on the 4 corners. Dedicated software allowing to import a roof drawing bill of material and generate in automatic all pieces cutting runs can be provided under proper customization.
Special Features
The shaping function now depends on asynchronous motors equipped with Inverter & Encoder directly controlled by the same PLC that runs the normal functioning of the machine: therefore both the Numeric Control and Brushless Motorizations have been eliminated.
All this allows to leave unchanged the standard of precision in the movement of the conveyor belt and of the shaping wire-holder frame (X and Y axis), releasing through the machine technology from the use of motors and control systems of difficult availability on the market and for which is necessary the employment of purposely trained technicians in case of trouble. Machines are therefore definitively easier to operate and maintain.
Some key elements of the ContourCad are
The simplicity of use.
The possibility of optimizing the cutting profile for reducing the scrap to minimum, through the automatic calculation of the useful volumes.
The integration of the piece production data in the design file (cutting speed, block dimensions, density, etc.) and the information on the costs for its production.
The storage of the data regarding the production.
The possibility to read DXF files created with Cad standard programs.
The possibility to compose in an immediate and automatic way special profiles, such as writings, coverings, etc.
The storage and fast recovery of the drawings carried out, without number limits.
The possibility to prepare a drawing while the machine is cutting another one.
The possibility to install the software also on a PC of the office without additional costs.
The complete compatibility with the previous Nip software versions, with the aim of exchanging drawing files with other existing NIP shape cutting machines.