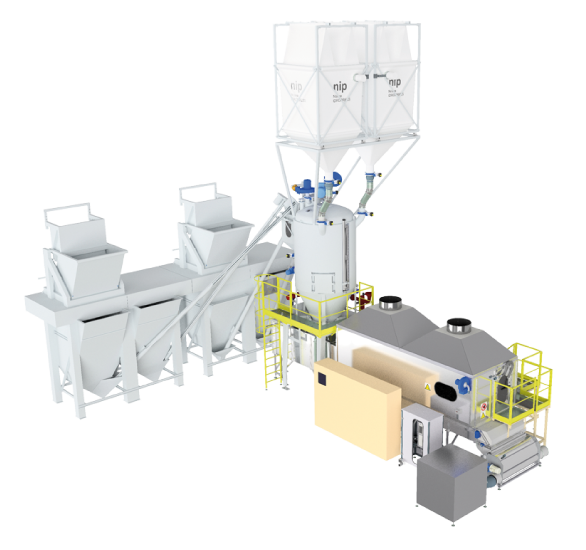 The Conical Batch Pre-expander
The "Nip Tool" to save money expanding Beads in the Most Profitable Way !
350 Machines Built since the presentation of this Innovative Technology on 1998 !
Main Advantages of Conical Shape & Bottom Chamber Door
Thicker material layer after raw material loading (narrow Ø at the bottom even for Big Volume Machines).
Large steaming surface occurring through chamber bottom side having diameter of: 600 mm (23.6 in) & 800 mm (31.5 in) in function of the machine size and ideal also for low pentane raw materials by allowing to bring into the vessel a lot of "cold steam (= low pressure steam)" in a short time and at low speed creating therefore a better progressive & uniform expansion process for a definitively more uniform density of the pre-expanded material.
Very quick and natural emptying from the bottom side of the expansion chamber: it improves the cycle time reducing the contamination risks within following cycles.
Modern and Advanced Control System
Process Control by Recipes
New WinCC Supervision System with 19" touch screen Siemens Industrial PC with SSD
Fully integrable with customer ERP software for controlling the production
Remote Control for distance support
Suitable to run as well 2nd & 3rd expansions when equipped with proper additional Accessory
Optimized technology for expanding in the same machine White & Grey raw materials minimizing the contamination
Are available
Models for shape moulding plants and small block plants which can also be provided suitable to run at high pressure up to 2,5 bar (36 psi) - TÜV Certified in order to expand in addition to standard eps and Arcel, also epp or special material requiring higher temperatures
MODEL

Expansion

chamber

Usable Volume

Productivity

in 1st Expansion

@ 18 g/l (1.12 lb/ft³)

Productivity

in 1st + 2nd Expansion

@ 8 g/l(0.49 lb/ft³)

PJX 400 D

0,4 m³ (14 ft³)

300 ÷ 340 kg/h

(662 ÷ 750 lb/h)

76 ÷ 85 kg/h

(168 ÷ 188 lb/h)

PJX 800 D

0,8 m³ (28 ft³)

576 ÷ 648 kg/h

(1,270 ÷ 1,429 lb/h)

144 ÷ 160 kg/h

(318 ÷ 353 lb/h)

PJX 1500 D

1,5 m³ (53 ft³)

1.080 ÷ 1.224 kg/h

(2,381 ÷ 2,698 lb/h)

272 ÷ 304 kg/h

(600 ÷ 670 lb/h)

PJX 2000 D

2,0 m³ (71 ft³)

1.440 ÷ 1.620 kg/h

(3,175 ÷ 3,572 lb/h)

376 ÷ 408 kg/h

(829 ÷ 900 lb/h)
Models for middle and large size block plants
MODEL

Expansion

chamber

Usable Volume

Productivity

in 1st Expansion

@ 18 g/l (1.12 lb/ft³)

Productivity

in 1st + 2nd Expansion

@ 8 g/l(0.49 lb/ft³)

PJX 3000 D

3,2 m³ (113 ft³)

2.178 ÷ 2.448 kg/h

(4,802 ÷ 5,397 lb/h)

536 ÷ 600 kg/h

(1,182 ÷ 1,323 lb/h)

PJX 4000 D

4,2 m³ (148 ft³)

2.718 ÷ 3.024 kg/h

(5,992 ÷ 6,667 lb/h)

648 ÷ 728 kg/h

(1,429 ÷ 1,605 lb/h)

PJX 5000 D

5,4 m³ (191 ft³)

3.276 ÷ 3.600 kg/h

(7,222 ÷ 7,937 lb/h)

816 ÷ 920 kg/h

(1,799 ÷ 2,028 lb/h)

PJX 6000 D

6,2 m³ (219 ft³)

3.654 ÷ 4.014 kg/h

(8,056 ÷ 8,849 lb/h)

888 ÷ 1.000 kg/h

(1,958 ÷ 2,205 lb/h)

PJX 8000 D

8,0 m³ (282 ft³)

4.320 ÷ 4.716 kg/h

(9,524 ÷ 10,397 lb/h)

1.040 ÷ 1.160 kg/h

(2,293 ÷ 2,557 lb/h)
Depending on Customer Production Requirements definitively we will be able to provide
a suitable model of Conical Batch Pre-expander !
Heated Fluidised Bed, which is properly designed to allow running Discontinuous Cycles too, foresees
Plenty of ventilation for allowing the material to breath quickly
A special "trapezoidal section" to ensure a proper air flow around the beads
Heating of the blown air by using steam line condensate for beads better treatment
Quick evacuation of expanded beads through a De-lumper and then a Rotary Valve which ensures a soft and gentle material handling
For the Best and Most Suitable Friendly Use in relation of the Operator Skillness machine at choice can be operated in
"Easy Modality" with simplified version of expansion cycle that foresees a reduced number of phases.
or in
"Expert Modality" with a larger number of available phases to be set in the expansion cycle with different settings of the various available parameters (pressure, % of vent opening, agitator revolution speed, amount of air to mix to steam for cooling the steam temperature in case of high density).
Monitoring of the Expansion Process
"Basic" with possibility to handle the passage between the various phases of the Steam Cycle by steps detecting the material level during the expansion by fixed and very efficient "Vibration Levels". Each machine comes with one Max vibration level. More levels are available as option in order to handle the change of phases during the expansion cycle by reached volumes and not by time.
"Advanced" with possibility to improve the Basic System as above described, by monitoring continuously the expansion cycle by a special laser photocell installed on a linear axis which, through a windows on the vessel, is able to "follow & detect" in real time, the level reached by the material during the expansion, creating effectively a sort of capability of the machine to monitor instantaneously and continuously what is happening inside the chamber.
This accessory called "Automatic Control of Expansion" definitively allows the machine to compensate any eventual difference in the quality of the raw material which may appear, and ensures a really uniform and constant density precision result in a sequence of various expansion cycles.
Methods of Checking if Target Density has been reached
Automatic Density Control System in Basic Version @ 1 sample/batch from fluid bed. It is retrofitting automatically the necessary weight adjustment after weight detection for adjusting the cycle on the scale (during raw material weighing-calibrating phase).
Master Version of Automatic Density Control System @ 3 samples/batch from fluid bed: with respect of basic solution allows, due to the 3 samples, to achieve more precision of the weight check, by calculating the average of the 3 measured samples / batch. It is also retrofitting a weight change of material under loading, in function of what detected and calculated, exactly as the Basic Version.
Level of density tolerance reachable up to ± 1%
Possible to complete the machine with
More material Hoppers for different quality raw materials
Octabin automatic tilters
Automatic cleaning procedures for proper handling of different material qualities and colors
Easy access to enlarged fluidized bed for easy cleaning by using dedicated suction devices
2nd and 3rd Expansions: by weighing through a pre-fill silo the already pre-expanded material, this can be expanded again in the same machine taking advantage of all benefits of a sophisticated batch Pre-expander
Inverter to adjust the speed of material during transportation to silo (acting on the fan) for silos plants with large distances
Devices to add at every cycle calibrated quantities of colored powders or additives to be mixed to eps beads during the expansion process
Software for visualizing and operate directly from the Pre-expander Control Cabinet and PC both the whole plant virgin-recycled material conveying system and the silo system via synoptic diagrams
Are as well available Cylindrical Inclined Continuous Pre-expanders to be used only for 2nd and 3rd expansions
For Customer that for many reasons need to use this type of traditional technology & equipment as alternative to run such steps of the pre-expansion process on Batch Pre-expanders.
Available Models are the PJX 1000 C, PJX 1200 C and PJX 1600 C for Productivities between 1000 ÷ 1600 kg/h (~ 2,205 ÷ 3,527 lb/h) @ density 8 g/l (0.49 lb/ft³).