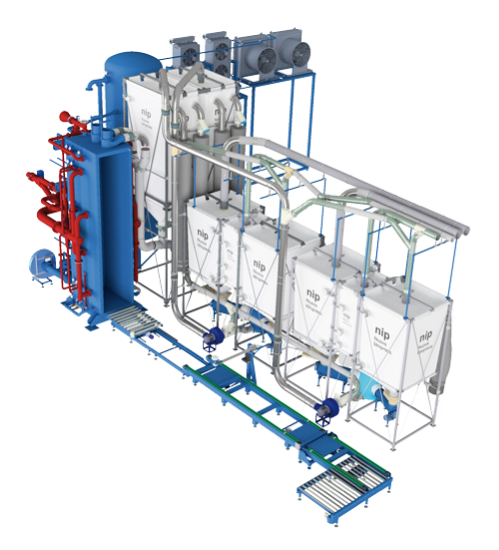 The Vertical Block Moulding Technology
A direction opened by Nip way back in 1971 !
Easy Way directly to Block Storage
Better flow steam Control & lower Steam Consumption
Higher recycled material % without affecting the density distribution
Better sheet flatness & stability after cutting, thanks to a modern block moulding technology and to the deep Dry Vacuum features
TÜV Certified as Pressure Vessels to comply with PED Regulations
Green
Saving Energies in the process thanks to a long term development technology
Heat Recovery Systems allowing to save fuel for the boiler by pre-heating water using the " high temperature heat" from the Dry Vacuum
Integration with customer RTO Systems for pentane collection
Available with no steam pressure exhausts
Modern and Advanced Control System
Process Control by Recipes
New WinCC Supervision System with 19" touch screen Siemens Industrial PC with SSD
Fully integrable with customer ERP software for controlling the production
Remote Control for distance support
Features to be remarked
Productivity up to 24 ÷ 25 blocks/h
Low added humidity ~ 1 ÷ 3 %
Optimal density distribution up to 1,0 ÷ 2,5 %
Automatic Density Control System in order to mould blocks with constant requested weight saving therefore costs on raw material by compensating density gradient due to stratification in seasoning silos.
Before moulding each block a weight density check (in automatic) allows via an additional filling and following properly calibrated compression to adjust the density of each block at the requested value in function of its effective density.
Procedure is completely automatic and allows to increase the block density up to Max 7 ÷ 8 %
Mechanical Compression for production of blocks with high regrind % (up to 100%) - it improves the material welding
Improved easy dismantle & re-install "single stainless steel steam plates" to simplify & make faster the mould steam chambers & plates cleaning procedures. Since each plate can be disassembled individually, it is not necessary to disassemble all of them every time the machine's mould has to be cleaned !
The Vertical Block Mould are available with
Fixed dimension
Single continuous adjustment (depth or height)
Depth continuous adjustment & height adjustment by fixed insert/s
Double continuous adjustment (depth & height)
Direct cutting in height / width and depth at the unloading of the block for a better efficiency & block size optimisation
The Dry Vacuum by Nip: a Great idea to run the Process without consuming water
Vacuum cooling system running only with air heat exchangers on closed circuits (no more Condenser cooled by water)
No cooling towers meaning no water evaporation as well as no issues with "legionella bacteria"
Allowing deep vacuum levels without using large amount of water water like it would happen with traditional technologies and therefore better block stabilization before ejection
Longer life for the liquid ring standard vacuum pumps when running with Dry Vacuum System.
A closed water circuit where heated water is cooled by water-air heat exchanger allows to cool the water without any evaporation.
On the contrary system releases water by overflow because vacuum pumps are condensating steam and therefore the system releases water continuously with consequences that after few days of functioning the water in the circuit will be completely softened and free of calcium and magnesium salts
Free heated air inside the factory thanks to heat exchangers: very useful in winter & in general for blocks or expanded beads stabilization
Low Energy Requirements
Thanks to special steam paths, low steam consumption down to ~ 6 ÷ 8 kg steam/m³ (0.374 ÷ 0.498 lb steam/ft³) is achieved
Consequently to that, less vacuum requirements and definitively less electric consumption are needed to run it ensuring as well dryer block production (less steam consumption => less stem condensation into the block = dryer block)
Dedicated upgrades to make the Vertical Block Mould suitable to run White & Grey materials minimizing the contamination
Double Pre-fill Silos or automated easy cleaning Metallic Pre-fill Single Silo
Easy cleaning multiple Silos Mixing Unit
Dedusting Systems, implemented directly on Mixing Unit for material cleaning before filling into the Block Mould, both for virgin and recycled material
Hydraulic Dust Compactors combined with Dust extraction on Mixing Unit to reduce the exctrated dust volume