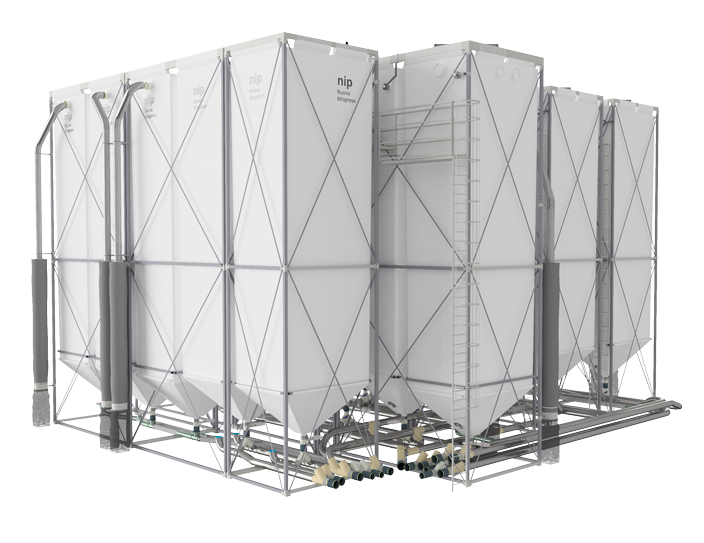 Automated Silos Plants and Material Conveying Systems
For Pre-expanded fresh material and Recycled material
Ensures a correct handling of the seasoning time of Pre-expanded material by providing in real time and via synoptic diagrams & charts the status and the content of each Silo of the Plant
In automatic as soon as the time programmed for seasoning that specific material quality is elapsed, the status of the silo moves from "non available" to "available" and therefore the silo can be selected for sending the material to 2nd expansion or block moulding.

All pre-expanded material data associated to each silo content (from Pre-expander) flows back to the machine in case of 2nd expansion and then back to silo again after the second step is done. Finally data will further move to the Block Mould at the moment of block production.

In such way traceability of material through the various steps is ensured.
Control carried out directly through the PC & PLC of Pre-expander or in alternative through an independent Control Panel equipped with dedicated PLC and PC .

By Ethernet connections all NIP computerized machines of the Plant (Block Mould and Cutting - Recycling Equipment) can visualize the Silos Status and act on Material Flows.
In addition to the Software Control System, the Silos & Material Conveying Systems foresee:
Suitable rotating 24 V DC level indicators, eventually ATEX comply when required by the law of the Country, for detecting material level inside the silos (standard MAX & min levels / optional: continuous levels - sonars)
Smooth longitudinal welding galvanized pipelines combined with rubber sealed locking quick release rings, wide radius curves and efficient silicone sealed deviating valves and guillotine valves (both pneumatically controlled)
Silo Bags made in High Transpiring Trevira (polyester) cloth which ensures a dimensional stability, a proper breathability and a good sealing to dust leak for a clean installation . Silos can be completely customized to be adapted to Buyer Building. For Recycled material or Grey material, both containing dust, bags can be made with a tighter fabric and the design foresees internal filters to exhaust the filling fan pressure via external sleeve filters which will collect the dust into plastic bags. Volumes available up to 300 m³ (10,600 ft³).
Fully dismountable (for easy transportation) silo structures made in galvanized proper size rectangular profile steel beams. It can be completed with ladders and upper walking ways for deviating valves and upper level indicators maintenance in proper safety conditions for the operators.
All the properly dimensioned fans that are automatically started and stopped by the Control Software; the pneumatic, electric and electronic connections in order to run properly the whole System.
Nip Experience in this sense ensures to provide suitable dimensioning (consequent to proper calculation and long term knowledge) of the whole Material Conveying System for guaranteeing a proper material flow rate in the best possible clean and gentle way.