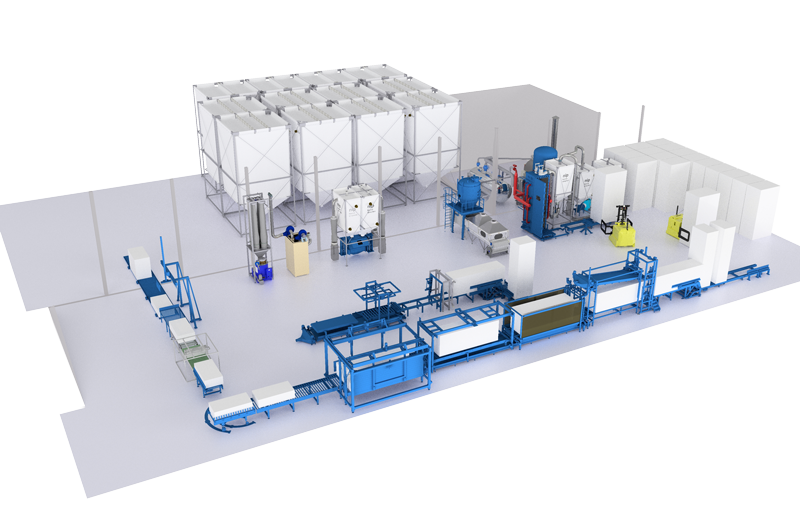 Turnkey Plants & Automatic Block Storage by LGV
The most modern technology to bring the automation at its highest possible level for guaranteeing the Top Class Results !
In case a complete New Factory has to be built
Nip can either:
Just make a Study for dimensioning all Utilities referring to Steam (Boiler size, Steam Accumulator size, all Valves and Pipelines list and size) & Compressed Air (Compressor size and Project of the distribution plant).
Or directly Supply from Italy all these Components eventually already pre-installed for a quick mounting at the new Facility.
It's really important to keep in mind that proper Steam Supply is basic for ensuring the best functioning of block mould and pre-expander which are definitively the Heart of an eps Factory.
Automatic Block storage by LGV
A state of Art Factory for eps blocks & cut products can be really optimized with a Laser Guided Trolleys (LGV) System for handling the whole block flows in a total automatic way. Equipped with forks or / and clamps can be also employed for the automated handling of finished products (piles or stacks of eps sheet packets) at the end of the cutting line to finished product storage. The main application remains anyway the block handling from Block Mould to block storage, from this eventually to Block Press for an intermediary passage and back to storage, and finally from block storage to Cutting Machines. One or more trolleys handled by a Unique Supervision System in function of Plant configuration.
Features of Automatic Block Storage by LGV
Computerized available dynamic storage status for blocks & finished product in real time
Automatic data handling from block production through intermediary steps (block pressing) up to cutting for a full production traceability
Automatic monitoring of intermediary block seasoning times and consequently, availability to further steps of the process
Possibility to make automatic re-order procedures of block storage for compacting it and releasing space for further productions
Equipped with 360° Laser Scanners to keep monitored all around during its translation in order to be even installed on an area where humans can walk, keeping proper Safety Conditions
... & Advantages
It saves operators costs for driving fork lifts; especially when operating several shifts / day
It saves human mistakes in material handling
Able to run 24 / 24 hours thanks to an automated re-charging process. The trolley goes to recharge in automatic on a suitable station as soon as it has available time. It returns to work as soon as is needed (always automatically)
Flexible, because it does not require any guide or rail on the floor apart a suitable concrete flat surface which allows therefore to redesign at any time the storage configuration by simply acting on the supervision software which handles the System